The Assembly Select Committee on the Status of Boys and Men of Color was established in 2011, by Assemblymember Sandré Swanson.  The Select Committee examines state laws and policies that promote and support our Boys and Men of Color to reach their full potential in work, in school, and in life.  It focuses on five issue areas: health, education, juvenile justice, youth development, and employment, which are critical to the success of so many youth facing unbearable obstacles at home, school, in their communities, and in the job market.
The Assembly Select Committee on the Status of Boys and Men of Color is located in the State Capitol, Room 2117, Sacramento, CA 95814 and the phone number is (916) 319-2059.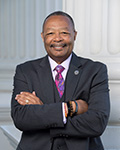 Important COVID-19 Information
The public will have the ability to participate in committee hearings by offering comment in the following ways:
The Capitol will be open for attendance of this hearing; however, due to guidance on physical distancing, seating for the hearings will be minimal for the press and public. In-person attendance is not recommended. All are encouraged to watch the hearings from their livestream on the Assembly's website at 

https://www.assembly.ca.gov/todaysevents

.
Remote Testimony Station location:

Sacramento – State Capitol Park - North steps

Written testimony before the hearing via the position letter portal. Please note that any written testimony submitted to the committee is considered public comment and may be read into the record or reprinted.